A high performing workplace can improve employee experience, increase productivity, and transform a company culture — all of which are vital to success in today's competitive market. But getting started with the right data to inform a new workplace strategy can be a barrier to progress.
While the market for technology and data sources promising to reveal the answer to workplace success has grown significantly over the past few years, without a reliable inventory of space and occupancy data, organizations struggle to get a handle on their workplace strategy.
New workplace strategies benefit when there is a reliable foundation of core space and occupancy data to build on. Layering additional datasets creates a multi-dimensional view of what's effective in the workplace and what isn't. There is no one-size-fits-all approach to workplace technology, so aim for implementing a workplace technology stack that is nimble and can quickly respond to today's ever-changing workplace.
"The most successful workplaces are methodical in their strategy," says Anne Gibson, Gensler design director. "When it comes to data, we need to know how often and how many people are using a space, and — most importantly — how effective that space is in supporting what employees need to do."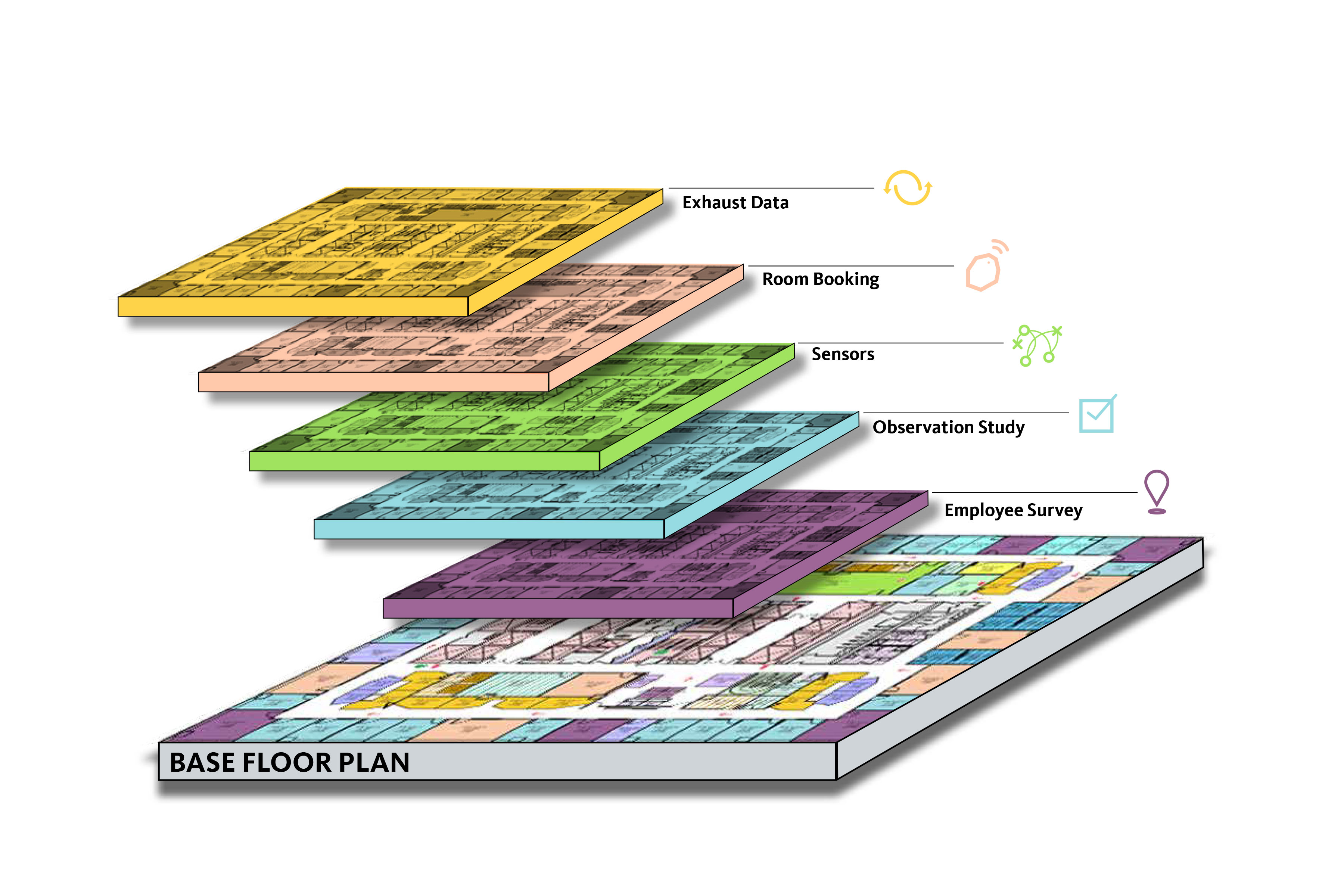 "There are many exciting innovations available today to achieve a deeper level of understanding about the workplace. When we look at the evolution of these technologies, we see data dependencies in place that must be considered to maximize value," says Gensler Business Development Director Christi Van Maanen. "New opportunities for data integrations still depend on core datasets, such as space and human resources data."
Today, integrated workplace management is less about a single software system and more about connecting relevant tools and datasets at the right time to support a holistic life cycle of data-informed workplace strategies. But, with the pace of innovative technologies emerging each day, it can be challenging to know where to start or what to fold into the workplace technology stack.
"Real estate teams have a combination of missing and disorganized data," says Gensler Workplace Sector Leader Gervais Tompkin. "Companies want data, but they're struggling with a lack of time and resources to keep information managed."
With a solid base of space and occupancy data in place, there are five additional methods for capturing data that can provide different perspectives of the workplace throughout the real estate life cycle:
Employee Survey
An employee survey is key to understanding how a space supports or hinders work from the user's perspective. Feedback can indicate where to dig deeper into understanding ineffectiveness of the space and help prioritize enhancements. Greater insights can be gleaned when the survey is conducted non-anonymously and is associated to the location where the employee spends most of their time within the space.
Tip: Openly communicate the reason for the survey, hold competitions to encourage participation and share the results with staff to achieve buy in and support change management. These surveys are valuable for both pre-design and post-occupancy measurement of the design.
Observation Study
Short-term, floor plan-based observation studies are the most effective method for collecting data about how spaces are used. By collecting types of activities employees are doing within each space, utilization data can be derived and a richer dataset is captured. Activity data will help validate whether the space supports each work modes as intended.
Tip: Similar to employee surveys and sensors, employees can be sensitive to observation studies. Be transparent about the study to engage employees in the change management process. This dataset is insightful for pre-design and post-occupancy measure of the design.
Room Booking Systems
While the primary purpose of a reservation system is to give employees better control over their space needs, the exhaust data can be mined for insights about which spaces are most used. The spaces can then be studied to determine the reasons for the high or low demand—location, size, technology or configuration.
Tip: Many room booking systems utilize a representation of the floor plan as part of their navigation. To minimize duplicate efforts, integrate space management drawings so the reservation system stays current.
Sensors
Whether seat, light, motion, or temperature—sensors can produce an ongoing measure of utilization. Sensors can also integrate with your room booking system to help automate data cleansing as the human factor of "no shows" can create distrust of reservation data. Refer to Capturing Utilization and Activity Data in the Workplace for benefits and precautions about this passive method for collecting utilization data.
Tip: Bring disparate sources of utilization results into your space management system for analysis with associated attributes found in this central repository. Overlaying blended results on the floor plans as heat maps provides a unique visualization of the data.
Exhaust Data
As people work and move throughout the workplace each day, they create constant streams of data that can enhance the story of what's occurring in the space. Any system that captures or transmits data within the space may be relevant to fold into analysis. For example, WiFi triangulation data could be used at a preliminary level to show patterns in space utilization and may tell you what you need to know or help build a case for investment into a larger study. Additional datasets, such as project workflows, tenure and other human capital data can unearth meaningful correlations as well.
Tip: When collecting various datasets, be mindful of privacy and integrity of the data. Gathering and analyzing various datasets may take additional time, but could lead to a more impactful strategy.
Before committing to workplace tracking technologies consider your strategy and questions such as these:
Do you have an accurate base of space and occupancy data?
What are your goals for collecting the data? Is it about design, employee experience, cost savings?
How will you implement governance to capture and maintain accurate data?
What behaviors do you want to support and reinforce in your organization?
What new work modes will you accommodate?
Space and occupancy continue to be foundational datasets for understanding inventory and measuring demand on space. Maintaining a central repository of floor plans as a sole source of truth throughout the real estate life cycle creates flexibility for layering a multitude of additional qualitative and quantitative datasets to inform and measure the effectiveness of workplace strategies. "Tie in the financial impact of these metrics and a case for change has been built," says Gensler La Crosse Managing Director, Joan Meyers.
If you have questions about building your tech stack for a workplace strategy, we're happy to help. Contact us or schedule a demo for next steps.